ProComfort face and neck mask with an incredible effect!
Fresh and radiant skin in just 15 minutes
Effect after the first application!
It is necessary to make face masks regularly (especially since this procedure is one of the most pleasant), and here's why.


Cosmetic masks contain a high concentration of active ingredients. These elements work actively and penetrate deeper into the layers of the dermis. Thus, they help to solve the problem in the shortest possible time.
Masks can be a salvation for facial skin in a variety of situations: reduce rashes, excessive oiliness / dryness, even out color or smooth out fine wrinkles.
Face masks cleanse the skin of dirt, oil, bacteria. Can intensively nourish and moisturize the layers of the dermis. At the same time, the pH balance and skin microflora are normalized.
A good mask is like a lifesaver for every woman. It will help to tidy up the skin before an important event or relax after a hard day.

It is desirable that the masks were in every woman's cosmetic bag. But which ones to choose? Alginate, moisturizing, hydrogel, purifying?.. Have you ever heard of an almost instant sheet mask? No?

In this case, we have a wonderful idea for you - Fullerene & Polipeptide Renewal Face & Neck Mask from the ProComfort range!

Already from the name of the product it is clear that this mask is designed to renew the skin.

The ProComfort mask instantly moisturizes, protects, restores. Literally 15-20 minutes - and the skin of the face is fresh, radiant and rested in any situation!

Already after the first application, it literally "erases" the traces of fatigue from the face - an express update in a matter of minutes.
Polypeptides and fullerenes in a luxurious care mask!
The formula is based on fullerenes, modern antioxidants.
Helps to protect skin from:
dehydration;
wrinkles;
pigmentation;
sunlight and negative environmental factors.
Fullerenes - the anti-aging revolution!

Unlike vitamin C and other powerful antioxidants, fullerenes attract free radicals that cause aging like a magnet, as a result, wrinkles disappear and new ones do not appear.

The formula is based on fullerenes, powerful modern antioxidants that have made a real sensation in cosmetology.

What is the secret of their popularity?
Cosmetics with fullerenes are suitable for all skin types and all age categories.
But most importantly, it penetrates deep into tissues and promptly reacts to free radicals, showing its activity.
Fullerenes - ingredients that rejuvenate the skin, working against wrinkles, as well as acne and hyperpigmentation, even out skin tone.

Fullerenes perfectly restore the skin barrier and reduce the negative effects of sunlight on the skin, protecting it from heat and dehydration.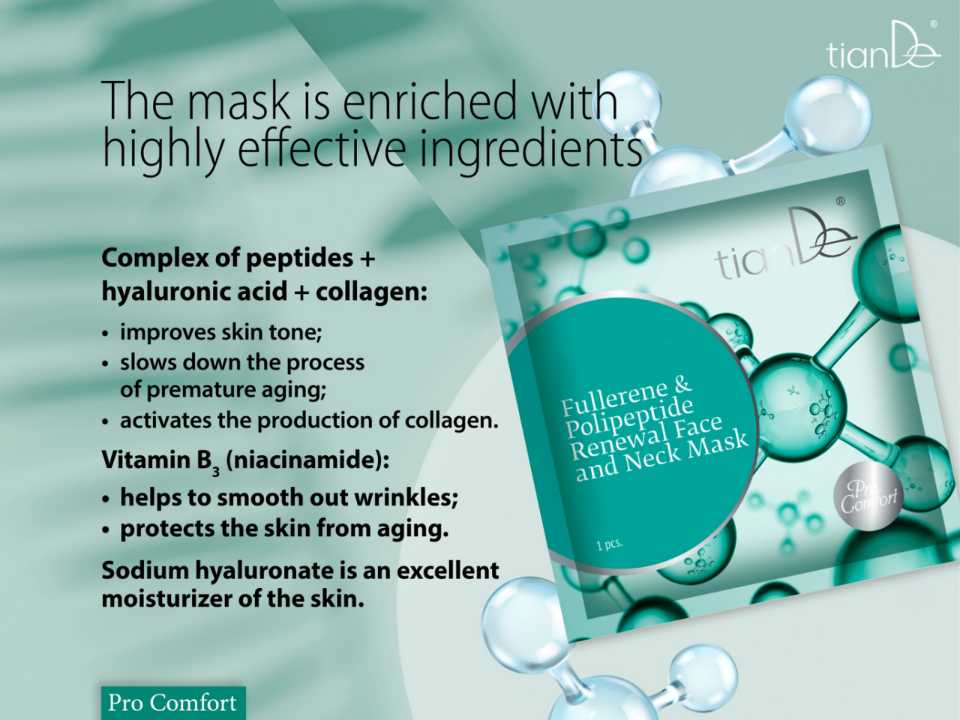 The mask is enriched with highly effective ingredients
Complex of peptides
hyaluronic acid
collagen:
improves skin tone;
slows down the process of premature aging;
activates the production of collagen.
Vitamin В3 (niacinamide):
helps to smooth out wrinkles;
protects the skin from aging.
Sodium hyaluronate is an excellent moisturizer of the skin.
52911
Care for the preservation of youthful skin
In addition to fullerenes, the renewing mask contains a complex that improves skin tone, slows down the processes of premature aging, and activates collagen production.
It includes:
effective peptides;
hyaluronic acid;
collagen.

I would like to say a few words about peptides, which are also popular in cosmetology. Like fullerenes, peptides are suitable for any type of skin, especially for sensitive ones. They significantly improve the condition of the epidermis, restoring its tone, smoothness, firmness and elasticity. As part of a renewing mask, peptides are more than effective. They not only help to fight the signs of aging, but are also responsible for its prevention. Peptides renew and restore the cell matrix, have a noticeable lifting effect by increasing skin turgor and density.

The renewing mask contains three types of peptides at once: Oligopeptide-1, Oligopeptide-2, Oligopeptide-5. Peptides in the mask work in combination with hyaluronic acid, and it is known to be a powerful natural moisturizer. Hyaluronic acid is responsible for firmness, elasticity of the skin and its freshness.

Collagen is another companion to an effective mask complex. Collagen is, of course, the appearance of the skin. It promotes tissue regeneration, increases muscle elasticity.

The composition of the ProComfort mask is enriched with niacinamide (vitamin B3), which helps to smooth wrinkles and protect the skin from aging. As well as hyaluronic acid - works as a moisturizer.

As a result, the active formula of the mask contributes to a radical rejuvenation of the face, refreshes, gives a healthy glow. The skin will be in order even after one application!
Comments (0)
No comments at this moment