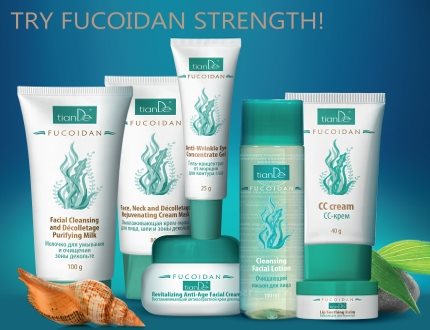 This line is based on the fucoidan unique characteristics.
It comprises fucose molecules contained in brown sea algae. 
Fucoidan mobilises stem skin cells, contributes to tissue regeneration, 
protects from free radicals and provides a strong anti-aging effect. 

Fucoidan quickly activates skin renewal mechanisms related to collagen and elastin synthesis. 
The remaining ingredients were chosen to perfectly complement one another. 

They ensure substantial antioxidant effect and skin hydration and nourishment. 
The complex of the products supports immune skin cells, which contributes
to the prevention of skin pigmentation and photo-aging. 

This line is especially favourable for skin susceptible to formation of a large number of small wrinkles.
REJUVENATION PHASE 1:
HYDRATE ALREADY WHEN HAVING A SHOWER!
Cleansing is a necessary and highly important phase of complex facial care. It is not good to omit this procedure and wash with anything you have at your disposal at the moment. It is one of the major mistakes that have a strongly harmful influence on the skin state.
The Facial Cleansing and Décolletage Purifying Milk Fucoidan from TianDe gently and carefully removes makeup residues from the skin and provokes the feeling of hydration and comfort. The gentle texture of the facial milk is suitable even for sensitive skin. The product is truly gentle as it contains natural surface-active ingredients based on coconut oil fatty acids. Thanks to fucose contained in the product, you will see full-blown anti-aging care even during the cleansing phase.


REJUVENATION PHASE 2:
FOR PERFECT PURITY
As any important activity, the cleansing procedure must not be finished only in the middle. It is not enough just to wash the skin. The main task of the Fucoidan Cleansing Facial Lotion is to perfectly clean the skin, yet is not the only task this product can deal with. With this product, you will finish the cleansing phase in a perfect way and also increase the effectiveness of subsequent creams for 20-30 %.
Remove makeup residues? Remove all impurities and cornified cells? With the Fucoidan Cleansing Facial Lotion, you can easily have a perfectly pure and fresh complexion. It contains no alcohol, which means it is truly gentle for the complexion.


REJUVENATION PHASE 3:
FOR PERFECT SOFTNESS.
It is a dream of every woman to have a day and a night cream in one package. TianDe will make your dreams come true thanks to the new cream from the Fucoidan range. This product will definitely become a perennial star of your bedside table.
The Fucoidan Revitalizing Anti-Age Facial Cream with a light melting texture have several effects on the skin. It is a truly multifunctional product. It combines intense nourishment and deep moisturization with rejuvenating and regenerating effects.
Use the revitalizing cream in combination with other Fucoidan products and your skin will be glowing with beauty and youth, existing wrinkles will be less visibly and new ones will be no bother for a long time.


REJUVENATION PHASE 4: BRIGHT EYES
Eye lids skin is wrinkle-prone at quite a young age and requires continuous care. Skin around the eyes is just 0.5 mm thick, which is the thickness of a paper. That is why the first wrinkles appear in this area and why tiredness can be observed based on dark bags under the eyes. Tired eyes can be hidden behind sunglasses, of course. But there is a more effective method from TianDe. The Anti-Wrinkle Eye Concentrate Gel Fucoidan from TianDe will help to maintain young-looking eye lids for longer.
Thanks to its rich texture, it is able to renew firmness of the gentle eye lids skin, eliminate fine wrinkles and prevent new ones. You can be sure your eyes will not reveal your real age. The only thing it will show will be youth and beauty.
REJUVENATION PHASE 5: NO NEED TO "PUT A MASK ON"
From time to time, one wants to mask the changes that inevitably affect the skin with aging. Harmful environmental effects, stress, bad regimen - all of that results in premature skin aging.
Let your skin enjoy a product with a cream texture that contains nourishing and rejuvenating components. Make your skin happy with the Fucoidan Face, Neck And Décolletage Rejuvenating Cream Mask Your skin will repay you with beauty, youth freshness and glowing look.
The cream mask hydrates the skin, makes it firmer and visibly improves the tonus. It is also able to soften existing mimic wrinkles and prevent new ones.


REJUVENATION PHASE 6: "SMART" CREAM THAT WILL ADJUST TO YOUR SKIN TONE.
Imperfections of your skin spoil your mood, but a thick makeup layer looks rather like a mask? Forget about applying layers of various products. The new CC Cream from TianDe contains everything one needs for a perfect-looking complexion!
The CC Cream is literary a magical wand of the world of cosmetics. It seems it can do everything. It corrects the skin tone, covers redness, wide pores, pigmentation and other impurities, protect from sunlight as well as hydrates. The TianDe corporation has made yet another step forward. The CC Cream not only cares for the skin, but also rejuvenates it thanks to fucose and other active ingredients contained in the cream.
You do not have to pick up the right shade anymore. This "smart" cream from TianDe will perfectly adjust to your skin tone.
The effect of a face powder and the maximum skin care - all of that in just one CC Cream from the Fucoidan range



REJUVENATION PHASE 7: BALM FOR GENTLE KISSES
Tender and silky, soft and moisturized... This will be your lips thanks to the lip balm from the TianDe Fucoidan range.
With the extremely softening and moisturizing balm, your lips will be protected in any weather. The softening lip balm creates a reliable barrier between the harmful environmental influences and the thin skin on the lips. The softening and nourishing ingredients are an ideal addition to the rejuvenating effects of fucose.
The Fucoidan balm can be used not only on the lips. It works perfectly for any dry or rough parts of the skin. Small amount of the balm can renew soft and silky skin on elbows or heels.
Comments (0)
No comments at this moment