Detox Foot Pads Removing Slag and Toxins, 2pcs
Feet Detoxifying Plaster (elimination of slag and toxins from your body)
It provides an effective way producing a body detoxification method on treating different symptoms of several ailments.
Detox Foot Pads components contained in the composition of the patch have a natural absorption ability and a strong antioxidant effect.
They improve the skin's blood circulation andremove toxins.
This helps to mitigate fatigue and muscle tension, improves sleep and increases the overall tone of the body.
APPLICATION:
In the evening before bed, open the packaging with the patch,
stick the sachet with the membrane onto its sticky surface and then apply it onto the cleansed skin of your feet.
Remove the patch in the morning, and wash your feet with water. Use immediately after opening.
Do detox foot patches really work?
The patch is created in accordance with the canons of traditional Chinese medicine.

Simple and effective cleansing of the body from slag and toxins.
The result will become apparent after first application!
Apply to feet for body cleansing. Apply to feet and problematic areas for special treatment.

Composed of:
Fagus Sylvatica Bud Extract, Bambuseae Extract, Citrus Paradisi Extract,
Hydrolyzed Maize Starch, Chitin, Phaseolus Angularis Seed Powder, Aluminum Silicate.

Administration Mode:
stick the patch onto the clean, dry foot skin. Maximum usage time is 12 hours.
There is a recommendation to stick the plaster no later than 9 p.m.

After removing the plaster rinse the feet with water.

Treatment course duration is 7-90 days.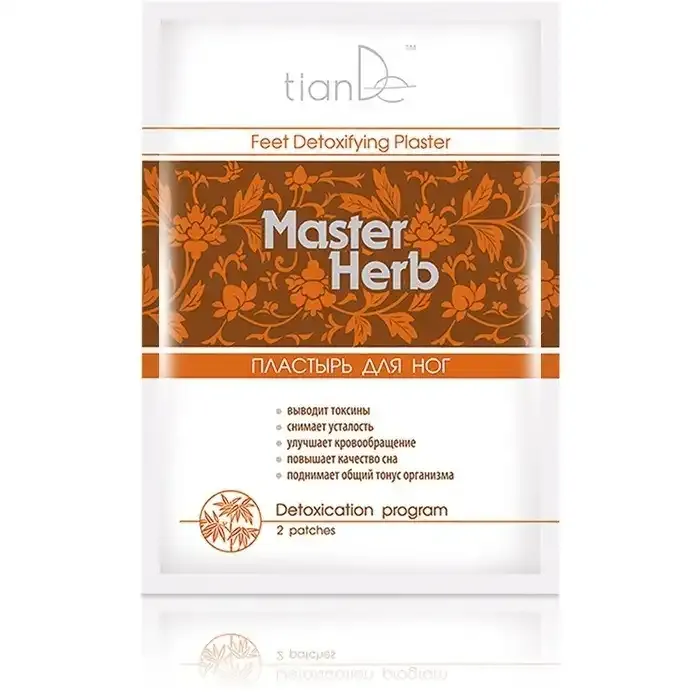 What is foot detox patches?
Advantages of a Detox feet Patches
Today, there are many different toxins and pollutants that can enter your body via various avenues. Providing an outlet to these materials can be a wonderful way of cleansing your body. Detoxifying your body using a foot patch is one of the great methods of achieving a cleaner body both in and out.

Take note, waste products which originated in your body are caused by various environmental factors. It includes toxins that are present in the air and foods being ingested. Well, the way to remove these unwanted materials is by using a foot patch.

A patch is an adhesive patch, square in shape attached by individuals underneath their foot keeping it in place overnight. The purpose behind using a foot patch as a means of body detoxification is to provide a waste product outlet that may hang around on the individual's body.

A patch contains natural ingredients which works in such a way that it cleansing the body from pulling out different toxins that are causing stress, fatigue and other related health problems. In fact, this kind of foot patch is frequently used in various regions all over Asia. It even influences other continents because of the fantastic results shown. The success of using it for body detoxification is seen on its increased number of usage rate in Asia.

There are several advantages offered by a feet paches

- It provides an effective way producing a body cleansing method on treating different symptoms of several ailments. Individuals who are using patches like this one attained a more relaxed, restful feeling and even help in curing minor health problems due to the elimination of large quantity of toxins that are present in their bodies.

- Most individuals who have used find it comfortable. It also gives them relief. However, their prime reason is that it cleanses their entire body. Remember, overall cleansing of the body help individuals to achieve less stress, great overall health, and restfulness.

- A feet patch is convenient to use. Individuals can obtain the cleansing that they need while sleeping or working. Well, there is nothing to worry about even though you are doing other activities.

- A patch provides a non-messy method of achieving a totally cleansed body, free from toxins. It has no ointments or liquids to apply. You just simply stick it underneath your foot while working or sleeping. It is considered as an inventive and new treatment regimen and it also does not involve invasive procedure to clean the body. So, generally it attracts consumers in various countries although it has already been popular in Asia for so many years now.

- Using a patch to detoxify your body is very affordable. Reasonable prices can be obtained by purchasing the item.
The unique composition of the patch makes contact with the skin to produce a similar reaction infrared rays, which are heated by the skin tissues. The patch has a high absorption capacity due to natural herbal ingredients.
 According to traditional Chinese medicine, the soles are more than 60 active reflex points associated with multiple internal organs. This patch accessing important channels in the body where toxins gather. The accumulation of these toxins disrupt blood flow, causing various diseases.
Regular use of the patch activates blood circulation, releasing toxins channels, regulates the endocrine glands, purifies the skin, improves complexion, skin pigmentation fades or disappears. Through the elimination of toxins, the discomfort disappears in the lower back, the shoulder, knee and toes. The patch improves sleep and even treat insomnia, improve memory, increase alertness and ability to concentrate. Releasing toxins from the body improve our state of the body and feel younger. 
Patch strengthens the body, improves the function of the gall bladder, stomach, and bladder intenstinelor. Relieves fatigue in the legs, helps patients heal faster, strengthens the liver. Prevents cancer, helps people constipated, treat obesity, nervous system disorders, smokers, people prone to alcohol, for proper people who lead a sedentary lifestyle.
Customers who bought this product also bought: